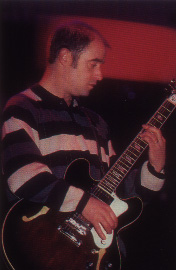 Part in the band;
Rythm guitar and piano
Left the band 10/8 - 99
Read his statement
Paul "Bonehead" Arthurs
Birth date: June 23 1965
Birth city: Manchester
Family: Mother Delia, father Ben
brother Martin and sister Maria,
Celine and Francis
wife Kate (married May 95)
son Jude and daughter Lucy Oasis
Other info: Favourite fotball team: Man. United
Bonehead was one of the original members of Oasis
(before Liam came, the Rain).
He was not often in the spotlight, but was still very popluar by the fans. His guitar is not so noticeable on the records, but if you would remove his guitar you would hear that something is missing.
He will always be remembered by the fans.
Live Forever, Paul!
Listen to Boneheadīs Bank Holiday...