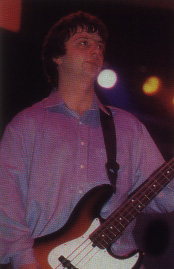 Part in the band;
Bass guitarist
Left the band 25/8 - 99
Read his statement
Paul "Guigsy" McGuigan
Birth date: May 9 1971
Full name: Paul Francis
Birth city: Manchester
Family: Mother Teresa, father Gerard
and sister Mary
wife Ruth (married 4/4/97)
son Patrick
Other info: Has a cat
favourite football team Man. City
Guigsy was very like Bonehead. He was one of the
original members of Oasis.
(before Liam came, the Rain)
He was not often in the spotlight, but was still
very popluar by the fans. He is one of the best
bass players I have had the opportunity to hear.
He will always be remembered by the fans.
Live Forever, Paul!