News from March to October
The last bit on place! + Second tour date! - 10/26/99
Oasis are on the point of recrioting a new bassist. David Potts, formerly the
guitarist in Monaco, the band formed by New Order's Peter Hook who were
recently dropped from their contract with London records, has emerged as a
serious contender to replace founder member Paul McGuigan.
Together with ex-Heavy Stereo guitarist Gem, who replaces Bonehead, the new
Oasis line-up is almost in place and ready to begin rehearsals.
Sources close to the band say that if the sessions go well the line-up will be
confirmed as the band that will tour Oasis' fourth LP, due for release on February
22 next year.
Gem has been tipped for some time as the replacement for Bonehead, who left the
band earlier this year following the completion of his parts for the new LP,
provisionally titled 'Where Did It All Go Wrong?'. Gem joined Noel and Liam
Gallagher last Thursday (October 21) at the launch party for the Jam tribute
album 'Fire And Skill' at The Gallery in Hackney, London.
Noel confirmed that a new line-up was rehearsing on the Monday, and that the
new bassist was a fan of Manchester City, though he remained coy about revealing
his name. However, sources close to the band said that David Potts was the man in
question. Creation confirmed that he was a contender for the job. At the party,
NME also spoke to Gem, who said things were going "very well". When asked if he
could confirm that he had secured the Oasis job, he said: "Easy, easy, we'll see, we'll
see. You know, but yeah, I'm minding my Ps and Qs."
Creation Records later confirmed that Gem has been appointed guitarist. 'Pottsy'
meanwhile will join the band if rehearsals go well.
Oasis have confirmed another US date following the announcement last week that
they would play in Philadelphia on December 3. The new date is in Chicago at the
Allstate Arena on December 4 for radio station Q101's Twisted 6 along with Bush,
Foo Fighters and Filter. Like the other radio shows, the bands will play short sets.
Tickets for the Chicago gig go on sale on November 1. .....taken from NME.....
Just a little funny news...no serious - 10/24/99
Little Lennon Gallagher is just a new born child. But that doesnīt stop his father
Liam Gallagher to have high plans for the child.
40 days after the birth the father announces that he wants his son to be a world
champion as a....heavy weight boxer!
"Heīs got a really good right hand, which he has already learned to use", says Liam
to the english paper Daily Star.
Though Lennon was born six weeks to early and is a bit weak Liam is convienced
that he will come up to the right weight. Itīs just a matter of time.
"I donīt understand all the medical talk, but I can see that heīs getting stronger
for every day that goes by." .....taken from the Swedish newspaper Expressen.....

Đ Shake Along With Me

New guitarist! - 10/24/99

Creation Records have confirmed that Oasis has found a replacement for
Paul "Bonehead" Arthurs. And has previously reported the newest member is
ex-Heavy Stereo guitarist Gem, who made his first public appearance with the
band last night at the party celebrating the Jam tribute disc 'Fire and Skill'.
No word yet on Guigsy's replacement. ...taken from the site Half the world away...

Almost official album news + tour date!! - 10/22/99

One newsgroup member claims the ten-track album contains the songs;
Getting Free, I Really Gotta Know, Little James, Only My Pride, Living In A
Shadow, Seeing Is Believing, Where Did It All Go Wrong? Other songs slated to
appear as b-sides to Go Let It Out include Flying High, So She Wakes Up, Coming
Through and a Goldie remix of Go Let It Out, though Goldies management deny it's
existence.
One fan who claims to have heard the new tracks describes Where Did It All Go
Wrong? as, "Quite a slow rock song, sort of romantic". He continued: "In a way
similar to Don't Look Back In Anger, quite anthemic." Of Getting Free he said:
"got synthetic drums, electronic effects, a tubthumper". Liam's Little James is said
to be a "psychedelic ballad". The site claims the lyrics to Go Let It Out, which is
stated for release on January 10 2000, go:
"Seeing the sunshine/Feeling one more time/Letting in the light of day/
Sorry for what we done/Sorry for being so wrong/Now I know it's gonna be OK".
Oasis' spokesperson said that the info was "erroneous" , but admitted some of the
purported track titles could be right and was unable to confirm that the lyrics
were that of the new Oasis single. .....taken from the site SAWM.....

Oasis announced the first of their US radio dates yesterday, according to a US
source. They will play the Philadelphia alternative station Y100īs Christmas
festival on December 3. Tickets will go on sale through Ticketmaster on October
30, according to a release sent out by the station.
Beck, The Foo Fighters and Moby are also on the bill at First Union Center in South
Philadelphia. Proceeds from the 1999 Y100 Festival will benefit local charity the
Greater Philadelphia Food Bank. More on this when we get it.

Meanwhile Noel and Liam Gallagher were out socialising with new member ex-Heavy
Stereo guitarist Gem in London last night. Gem is the replacement for Bonehead, who
quit Oasis following the completion of his guitar parts for the band's fourth album
earlier this year. The trio were at the launch party for the new Jam tribute album
Fire And Skill last night (October 21), which included a live performance from the
Bootleg Beatles. Rumours circulated London all day that the Gallaghers would get on
stage to perform new material at the event, or join the Bootleg Beatles for an
encore of Hey Jude. Both however proved to be unfounded. ...taken from NME...

Liam speaks! - 10/20/99

Here is a interview with Liam made by Q- magazine. I write only what Liam said in
the interview and not all the other stuff Q wrote.
About Guigsy: We havenīt seen him at all since France. Weīd been ringing him
because we have to go to New York to do the sleeve. There was no reply and he
hadnīt been down to the mix, so we thought something was going on.
About them leaving cos they didnīt like the new Oasis sound: They seemed happy
playing it. We all had a good time in France. Itīs still fuckinī rythm, bass, drums
(sudden wicked smile) and my sweet little self. But maybe theyīre not into it any
more. I donīt want to say itīs down to the money, that theyīve got enough and they
want to chill out. Because I canīt see that happening.
About them leaving cos of "bad blood": I dunno any other reason why itīs
happened. If I did Iīd fuckinī tell you because I want to get all this cleared away
so we can get on.
About them being missed: Nothingīs going to be lost. Whoever the replacements
are, Iīm on fire and Noelīs on fire so youīll be getting lots of Manc lip from us.
Again about Guigsy and Bonehead: A lot of it may have been lack of communication.
I just donīt think Guigs and Bonehead are that good at it, which is a bit of a
problem, but itīs not my problem, you know what I mean? Iīm not a social worker.
I havenīt got a problem. When Iīve got a problem they fuckinī know about it. And
if Noelīs got a problem, they know about it. But weīve got no problem, theyīre the
ones with the problem. Things change. I donīt think I will be seeing much of them
now. And vice versa. Iīm sure they donīt want me knocking on their door.
We werenīt that close. (...playing together for over 8 years and werenīt close...?)
About the future: Maybe some people will say, Itīs a bit quick. Fuck it. Weīve not
been sitting on our arses thinking, Wooo, this is a bummer. Weīve got to work at it
and thatīs what Iīm ready for. Weīre not daft, weīll pick people we know or a
friend of a friend, it wonīt be two strangers. Weīll have them by the new year
caertainly. And if we havenīt...weīre in the fuckingī shit! ..taken from Q- magazine..

Album stuff - 10/10/99

Just gathered some stuff about the new album.

"The single's called Go Let It Out. The album's not got a title, all I can tell you
is that it's got 10 tracks. Liam's first attempt at writing a song is on there.
It's got 10 tracks on it - Liam's got one, which is really good…there are 2 shit ones
which I wrote, and the other 7 are all right." - Noel

"I'd say, if you're lucky, about February. You'll hear the single in January." - Liam

Oasis are to announce their replacement guitarist and bassist later this month.
Oasis press officer Johnny Hopkins denied that Richard Warren of Echoboy had
turned down the bassist position. "Richard (formerly of The Hybirds) was one of
the names flying about, but there was never any meeting with the Gallaghers."
"Apparently, he was in to doing the job, but it was never pursued by us as he was
still under contract to Mute so he couldn't give a long-term commitment to Oasis."
He also refused to confirm that Gem from former Creation band Heavy Stereo was
the frontrunner in the race to become the new Oasis guitarist. Hopkins said:
"It's not definitely going to be Gem, because no-one's actually tried out for the
band yet. But that will take place relatively soon and there should be some sort of
decision made in a few weeks."
Liam said this on Top Of The Pops the other nite;
"We still need a bass player, we've got a guitarist and we're rockin', but we need
a bass player. We should have one by the new year."
It seems we as always just have to wait and see...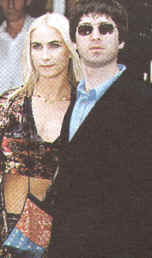 Girl power! - 30/9/99
Take this news no serious at all! I hardly think itīs true...
Noel and Meg are going to get a girl! According to the newspaper the Sun...
They said that Noel and Meg couldnīt wait any more so they asked the doctors
to tell īem. They also said that they are planning to name the baby Agassi.
Due to the fact that Meg is in love with the sport tennis in which a surten
André Agassi plays...
The baby drops in in February.
Another tracklisting - 22/9/99
Here is another rumoured tracklisting to the new album.
Though I recieved it just over the ICQ I donīt think itīs aspecially true...
I think the one I listed before, 26/8, is more accurate. But hey itīs fun to
specualte...
*= Existing songs

Where Did It All Go Wrong?
1. Everything's Alright!
2. Go Let It Out* - 1st Single
3. 'Til Tomorrow Morning - Noel Sings
4. She's Lost Again
5. Above The Skies
6. I Feel It
7. Slow* - Noel Sings
8. Little James* - written by Liam
9. Going Wrong
10. Flying High
11. Strangers In The Night

Đ Aftonbladet
A baby has been born! - 14/9/99
Last night Patsy Kensit and Liam Gallagher became mother and father.
Six weeks to early their baby boy has come to this world.
He will be called Lennon Francis Gallagher.
Due to the to early birth the baby and the mother are now resting in a children
clinic in London. A friend to them has said that they are ok.
The future Oasis has been born...
Patsy - 12/9/99
Just a recently taken picture of Liam and Patsy...sheīs big now ;o)
Sorry for the stuff across the picture but I canīt do nuthin about that.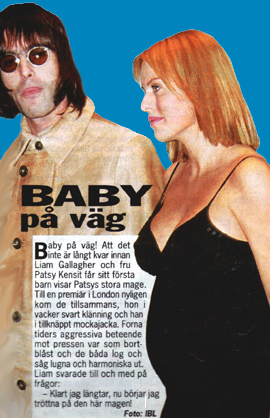 More funny news! - 1/9/99
Noel Gallagher has already written the songs for the Oasis single that will
follow up 'Go Let It Out', released in January 2000, so that the new members;
"Can get on with it".
In an interview in Melody Maker this week, Noel said that he was anxious that
they not leave recording new songs too long so that people wouldn't continue to
speculate on the future of Oasis.
In the wake of Guigsy's departure, Noel also confirmed that their world tour,
which kicks off in March 2000, will visit the UK last.
"I don't think England has seen the best of us." he said. "We usually start with
six massive gigs, but we don't hit our stride until after a month or two. I don't
think we played particularly well on the last tour. Coming out onstage in a big red
telephone box threw us a bit. That was a bad advert for drugs."
Noel again denied that there was any bad blood between him and Bonehead or
Guigsy. "I don't fall out with people easily. Apart from that knobhead out of Blur.
He looks like a dustbin man these days, but good luck to him."
Noel also said that his ideal line-up would be "...John Squire, Nick McCabe and
Simon Jones from The Verve." Though he admitted that the line-up probably
wouldn't work out.
As if to fire-up more rumours, Richard Ashcroft and wife Kate from Spiritualized
were spotted leaving Olympic Studios in Barnes, London last week while Oasis were
completing work on the record.
Creation records boss Alan McGee told NME at Reading: "The album got finished
yesterday, and it's sounding absolutely great. It's Oasis, but it's Oasis in the year
1999. It's different to the other albums, it's a move on and the production's better
than it's ever been. It's really really beautiful."
McGee was also in the dark about possible replacements: "They've still got loads of
steam. I've spent a lot of time recently with Liam Gallagher and the guy is more
alive than almost any other musician I know. He's still 100 per cent totally up for
being in a band and being in Oasis. I think if Noel left, Liam would carry on, do you
know what I mean? Liam is just living for it. He's in amazing form."
.....taken from NME.....
The tracklisting on the new album - 26/8/99
Here is a rumoured tracklisting to the new album, itīs definitely not confirmed!
The names on the songs are actually not really Oasis inspired I think.
But itīs a bit happier news than yesterdays...
Noel will sing 4 and Liam has written 2. Hidden tracks in the beginning and in the end.
Remember itīs 100% not confirmed at all!
*Existing songs
Coming through
1. Go let it out*
2. Finding Is Hard
3. Slow*
4. Red, White And The Blue*
5. Little James*
6. Where Did It All Go Wrong?
7. Low Down In The Air
8. Brand New
9. Yes, Please
10. Count It Once
Hard off thought
Here are some that Iīve found on other sites that claims will be on the album
or as B-sides.
Magic Misha
Noisy Pink Bubble
Professional
Strangers In The Night
Flying High
Helter Skelter*
Blue*
Guigsy has left Oasis!!!! - 25/8/99

Đ Aftonbladet
Hereīs the statement...
"Bass Guitarist Paul McGuigan has informed Oasis he has decided to leave the band.
Paul has finished his work on the recordings of the new album and feels now is an
opportune time to leave before the band undertakes touring and promotional
activities later on this year.

He'd like to thank the fans, as well as everyone he's worked with along the way,
and wishes Oasis all the best for the future. The remaining members of Oasis have
accepted Paul's decision to leave at this time."

Hereīs a few other sites to read about the sad news...
Dotmusic (With pictures and you can listen to the pressconference, Noel and Liam
are in a great mood actually, itīs quite funny to listen to, though itīs sad news. By
the way it must be their first apperance together since Wibbling Rivalry!)
TheOasis
Donīt Go Away
WHY...? - 10/8/99

Đ Aftonbladet

Bonehead has decided to leave the band...

Here is his official statement;
"After a lot of consideration I have decided to call it a day with Oasis. I've had a
fantastic 8 years in one of the best bands ever to come out of Britain, and now feel
I have come to the stage where I'd like to concentrate on other things in my life,
outside of the demands of being in a successful rock and roll band.

I've made some great friends along the way and wish everyone in the band every
success with the next album, and intend to enjoy watching the band go on to further
success in the coming years. I would like to thank the band and everyone around it,
especially the fans, for making it so special.

See you at the next show!"

Paul Arthurs

All fans around the world will miss you...thank you for creating one of the best
rock bands ever!

A baby John? - 23/6/99

According to rumours in the newspapers Noel and Megs child is a boy and will
be named John after, guess who....John Lennon.
Noel tells the newspaper The Sun:
"We got the news that Meg was pregnant right before we were going on vacation
to Italy, so it made the trip extra special for us.
It will be much planning to do for the new millenium, a baby and a new album
that will be released at the same time."
Noel also says that he is happy that he and his brother Liam will be parents
almost at the same time so the children can grow up together. It will only be four
months difference between the little Oasis cousins.
He continous;
"Who knows, maybe one day they will also start a pop band together!"
.....taken from the Swedish newspaper Expressen.....

Oasis baby boom! - 21/6/99

Talk about baby boom in Oasis. Not enough that Liam and his wife
Patsy will have a baby in October. Now his brother Noel and his wife Meg
is going to be parents. Sometime in January is the baby excpected.
"It wasnīt planned, but both Noel and Meg is very happy."
This says a friend to the english newspaper The Mirror.
The friend continous;
"But now Oasis have almost finished recording the new album. So Noel have lots
of time to take care of Meg during the pregnantcy." .....taken from Aftonbladet.....

A bit more album news - 18/6/99

Noel Gallagher gave a progress report on the recording of the band's
highly anticipated studio follow-up to 1997's Be Here Now.
Gallagher says: "It's going a bit slow. We're in a lucky position now
where we don't have to have a deadline. We're just trying to get the
record right. I'm doing guitar overdubs today. Then we'll see if we can
put some kind of tour together if anybody still wants to go on the road."
And what does the new disc sound like?
"I don't want to limit myself by saying it sounds a certain way.
At the moment it just sounds like Oasis. It sounds like a rock'n'roll record.
I'm gonna sprinkle some psychedelic magic on it. But at the end of the day,
it's still all melodic rock'n'roll, pop music. If we can make this record sound
a little more modern, that would be great too. Hopefully it will sound different
but if it doesn't, it won't be the end of the world. I wouldn't like it to spoil
everybody's year." .....taken from the site Half the world away and Spin.com.....

The end of OBN... - 13/6/99

The two webmasters of the news site Oasis: Beyond News have
announced that they are closing the site.
It has been up for about three years, but now they feel that they
no longer can make as much updates that is due to be made on a news site,
they have to much work with school etc.
Doug ends his site with the words;
"Farewell folks. Itīs been a fun ride."
It sure has.....

A girl? - 7/6/99

Liam Gallagher, 26, and Patsy Kensit, 31, will get a daughter. This is
the latest rumour after the workers, that are building the child room
in their house in Primrose Hill in northern of London, have been ordered
to paint the room - pink.
The child is expected in October. .....taken from the Swedish newspaper Aftonbladet.....

Liam and Patsy confirms pregnantcy - 26/5/99

Liam and Patsy have finally admitted that she is pregnant with their
first child. Supposedly, she is due in October, which is also the
projected time for a new Oasis single. How this will affect Oasis'
touring future and promotion schedule remains to be seen. .....taken from OBN.....

Noel names the new single - 26/5/99

Oasis will release a new single called 'Go Let It Out' later this year
or early next, according to Noel Gallagher. Noel also revealed that
the band's fourth album, currently being recorded in a French chateau,
is provisionally titled 'Where Did It All Go Wrong?' Noel talked
exclusively to NME's Jody Thompson at last week's Loaded Carling
Good Work Fella Awards at the Talk Of London where he was collecting
an award for Album Of The Decade (for 'Morning Glory') as well as
Band Of The Decade and Live Performance of the Decade.
Meanwhile, today's Daily Mirror reports that a well oiled Liam Gallagher
was spotted by two British holidaymakers in the South Of France last week,
despite Noel telling everyone that he had been on the wagon for three months.
Liam told them that the new album was like "...Pink Floyd's 'Dark Side Of
The Moon'. Fucking brilliant. The best record we have ever done.
Do you wanna hear some of it?" Liam then apparently mumbled some of the songs
at the bewildered Brits. You can read the full NME interview, where Noel
talks about the album, new producer Mark 'Spike' Stent and his ban on Liam's
drinking in this week's issue on sale now in London and across the UK
from tomorrow. .....taken from NME.....

Noel Gallagher - Is He Still a Real City Fan??? - 5/20/99

As a die-hard Manchester City supporter, you would expect him to be
disgusted that Manchester United stand a chance of winning the treble,
but you'd be wrong! In a shock revelation, he told us that
"I used to really f**king hate the players, and the club and all that. I still
hate the fans, totally hate the fans, but I don't hate the players so much no
more. If they win the treble, so what!"
But he's confident City will make a swift return to the 1st division in
the play-off final next week, even though they might not find the glory of
United! "They are going to storm through the play-off's but then they'll just
be the same bag of s***e!" .....taken from BBC.....

Noel the 47th richest music person - 4/11/99

Noel Gallgher have Ģ25`000`000 says "The Times Rich List" which was
published today. A lot, eh?
That makes him the 859th richest man in Britain.
Paul McCartney is the richest.

Oasis to record in France - 3/31/99

For the first time in their five-year career, Oasis will travel to another
country to record an album. According to a source close to the band,
Oasis finished the demos for their fourth album in London and will travel
to a chateau in the South of France on Monday, April 5, to start recording
their 4th album. Oasis are expected to be there for eight weeks.
Epic Records is looking to release the album in Jan. or Feb. of 2000.