News
Join TheOasis mailing list for news almost regularly.
If I see some other news that is not in the mailing list I will put it up here,
so keep checking in!
[Old news]
---
Anais close to dying... - 02/14/00

Grateful Oasis wife Meg Matthews paid tribute to her mum Christine last night
after she saved the life of her newborn baby.
Christine's husband, former builder Stan Matthews, told The Mirror in an
exclusive interview: "Meg is so proud of her mum for dealing with everything so
well. Obviously, Meg was very upset at the time, as any new mum would be. It was
quite a fright. But Chris was very calm, took control of everything and helped get
the baby breathing again. As a mother herself she knew how to handle the situation.
Now the baby is fine and back at home, and that's the most important thing."
Meg, 33 and husband Noel Gallagher, 34, went through hell after their baby Anais
suddenly went blue in the face and stopped breathing for about 30 seconds.
The Gallagher's nanny was on a day off. But fortunately Christine had been
staying at the couple's pounds 2.5million mansion in Chalfont St Giles, Bucks,
since Anais was born 18 days ago.
And after panic-stricken Meg screamed at her husband to call an ambulance she
calmly took charge. While the baby lay motionless, Christine took instructions from
paramedics over the phone and put Anais into the correct position.
Speaking at his home in Gimingham, Norfolk, Stan said:
"It seems strange but apparently they told her to put the baby on its back, with
her head back to clear the airwaves. That freed the mucus blocking her throat."
Gradually, colour started to return to Anais's cheeks and she began breathing again.
Meg was so relieved she burst into tears. Still desperately concerned, she and Noel
drove their baby to the nearest casualty department at Wexham Park Hospital, in
Slough five miles away.
Anais was examined and put on a heart and pulse monitor while tests were carried
out. After a harrowing 90 minutes during which shocked Noel paced another room
chain-smoking, the parents were told Anais had suffered no damage.
She was sent home with a breathing monitor as a safeguard in case the problem
recurs. Stan said: "It was a fairly serious situation, but it was all sorted out at
the house. They only took her to hospital to make sure everything was OK.
Meg phoned to tell me everything was all right and there was nothing to worry
about. We are all just very relieved."
A friend of the couple said: "Noel and Meg are both delighted Chris was so calm in
the crisis. They are also very grateful to the medics who talked her through.
It was their most terrifying experience. The baby stopped breathing for about
20 or 30 seconds. It may not seem long, but it's a very long time for a baby and it
seemed like an eternity to them. They are still shaken up."
A friend of Noel's added: "Anais means everything to them - she is their world.
When they got home they were absolutely shattered."
A member of staff at Wexham Park Hospital said:
"Meg and Noel were in a terrible state. You could see by their faces they had
already been to hell and back. They were desperate to know what had happened
and why their baby had stopped breathing.
Noel was very nervous and kept pacing up and down until he asked where he could
light up. He was desperately worried. Although it turned out to be more of a scare,
at the time they thought their child could die."
A top doctor said Anais could have been moments from becoming a cot death victim.
Simon Ward, respiratory registrar at Great Ormond Street Children's Hospital,
said: "Cot deaths usually occur at night when the baby is not being watched. They
were lucky to be so close."
Cot death is the most common killer of babies aged one month to one year, Medical
Correspondent Jill Palmer writes.
Near cot death or apnoea attack, when the baby stops breathing for a few seconds,
also affects around 500 babies a year.
Often, the baby simply forgets to breathe. While some start breathing again
unaided, many need a slap or a shake to force them to take a breath.

Noel speaks about some really interesting things - 02/09/00

N

ew Oasis recruits Andy Bell and Gem Archer are to be allowed to write songs
on the next album, Noel Gallagher has revealed - as well as declaring their arrival
as "just the best thing that's ever happened to me in my professional life as a
musician."
Speaking to Nme.com at the Nme Premier Show at the London WC1 Astoria last
week headlined by Shack, Noel said the new boys were already being encouraged
to get involved in the whole creative process of the band.
He said: "First and foremost they're really brilliant guys to have around. They
know their shit and they're not in awe of us and we're not talking down to them,
so it's a real band for once. A real, real band. I used to be a bit of a dictator
really, but I can't get away with that anymore."
Noel continued that he was already getting the pair involved in shaping the sound
of the band and was relaxing his iron grip on musical control.
"Absolutely, totally (are they geting involved in the creative process). They're
totally talented. Like I say, it's the best thing that's ever happened to the band.
It's really, really exciting."
Nme also asked Noel about the rumour that the recent Radio One Evening Session
recording of The Who's 'My Generation' was something of a fix. As reported
previously in Nme, Oasis recorded their cover after listeners voted for the song
they'd most like to hear Oasis play.
Oasis picked 'My Generation' out of a hat rather than the listeners' other most
voted for choices of 'Angels' by Robbie Williams, 'Come As You Are' Nirvana,
'Sympathy for The Devil' by the Rolling Stones and 'Country House' by Blur,
which received the most votes.
Two months before, insiders told Nme that the band had already recorded
'My Generation'.
However, Noel strongly refuted the story. "No, that's not true that. We got
approached by some people who I think are putting out a Who tribute album
next year, and they approached us when I played with Pete Townsend at that
Liverpool Dockers thing. So we said we'd do it, but we actually wanted to do
'I Can See For Miles'. But when the votes came through for the thing on Radio
One... so we've done 'My Generation' now, so we'll probably put that forward
for the Who tribute album now."
But Noel said even if 'Country House' had been picked, the band would have
refused to play it.
"To be honest, we wouldn't have done it. We just wouldn't have done it. I mean,
it would have funny and all that shit, but we tend to take things a little more
seriously these days. I would have actually liked to have done, we got a list of all
the votes as it was coming in, and the ones that interested me the most were the
Nirvana track 'Come As You Are' and 'Ace Of Spades' by Motorhead. We were
all banking on that being a big one."
As a result of the suggestions from listeners, Noel said Oasis were considering
recording their own cover of 'Ace Of Spades' and were planning to play 'My
Generation' on their forthcoming world tour.
Noel also revealed that Cotton Mather would be supporting Oasis on a few of
their European dates, but though none of the supports for the UK shows had been
confirmed yet.
In Japan, he said that local bands would be opening for them; a situation which he
described as "fucking bizarre".
As for UK festivals, Noel effectively ruled out Glastonbury, and hinted that it
would either be Reading or V2000 - and that the highest bidder would secure the
band's services.
"We're definitely going to do the one, but I don't know which one it is to be honest
with you. It's all a question of that (rubs imaginary money together). Because we'll
have done our tour and all that, and the last thing round about August that we'll
want to be doing is playing a gig unless there's a shitload of money, because we'll
all just want to get home and see the wife and kids and all that. But if somebody
makes us an offer we can't refuse, then of course, you know..."
Finally, he revealed what it was like to be a new father - just three days after the
birth of his first child, daughter Anais.
"It's fantastic! I have to say I'm actually gutted that I didn't get round to doing
it in my early 20s 'cos I'm 32 now. I thought when I was younger that I wouldn't
be cut out for having kids but I'm actually adapting to it quite well and perhaps I
should have four already now! But I've just got the one for now."
....taken from NME.....

Noel´s a dad!!! - 01/28/00

Noel Gallagher wept with joy as wife Meg gave birth to their baby daughter
yesterday - then had a pint of Guinness with The Sun to celebrate.
Noel was ecstatic at the arrival of 7lb 6oz Anaïs. The 33-year-old Oasis star
admitted: "Meg didn't cry but I did. I'm still shaking about the whole thing."
Meg, 34, had Anaïs - the pair's first child - after a short labour. An hour later
Noel headed for the Fitz & Firkin pub over the road from London's Portland
Hospital. He told The Sun: "They're drinking champagne but I can't be doing with
it so I've come for a pint." He accepted a Guinness from us and said: "Cheers."
Mum Meg, was in labour for just under four hours until the baby arrived at 1.17pm.
The delivery had been induced early because she had grown so big.
Noel said he had shed a few tears - but that Meg had coped amazingly with the
labour. He joked: "Meg was very well behaved! I was crying a lot but it's just
like she has been shopping. She looks fantastic - she doesn't even look like she's
had a baby. I'm still shaking about the whole thing."
The baby is named after Meg's favourite author Anaïs Nin, the French writer
whose raunchy personal life matched her explicit stories.
The name means "fruitful" in Greek.

With Meg after the birth were her business partner Fran Cutler, her mum Chris
and Noel's mother Peggy. But as champagne corks began to pop Noel slipped away
- to the Fitz & Firkin pub across the road for a pint.
As he sipped a celebratory Guinness with The Sun, he said:
"Unfortunately they don't serve Guinness in the hospital. "I'm just going to have
the one and then I'm going to go and get acquainted with my new daughter."
As he accepted a bunch of flowers from Britain's No1 paper he added:
"She looks a lot like Meg. She's got blonde hair and blue eyes and a big head.
She's doing a lot of screaming at the moment."
Noel said his phone "hasn't stopped ringing" since news broke of the birth, with
callers including rap pal Goldie. He said:
"Everything has turned out just how we wanted it. We really wanted a girl. Even
though there will be two women against me, I'm looking forward to it."
Noel joked that his preparation for fatherhood had been cult comic magazine Viz.
He said: "The only book I've read on how to look after babies is Viz. It might
mean that I stop scratching our kid's eyes out. "It might bring out my feminine
side and all that." Anaïs was conceived at a mansion owned by the family of
fashion designer Christian Dior in the South of France. Noel and Meg stayed
there while Oasis recording new album Standing On the Shoulder Of Giants.
Noel added that he hoped the baby would be home by Saturday night - so he
could watch the Mike Tyson-Julius Francis boxing match on TV.
He said: "I'm supposed to be rehearsing anyway but I will be watching the fight."
The couple quit London last year to live in a £2.5million mansion in
Buckinghamshire.
Liam is as excited as Meg and Noel. Meg's best pal and business partner Fran
Cutler said as she left hospital: "The baby is beautiful and Meg's ecstatic."
....taken from some different newspapers gathered by Maureen on AMO.....

Oasis have a new label! Their own...plus 5th album news" - 01/04/00

Noel Gallagher has confirmed that Oasis' new album, 'Standing On The Shoulder
Of Giants' will be released on the band's own label, Big Brother, on February 28.
Although the album will be released worldwide through parent company Epic/Sony,
forthcoming releases in Britain will be on the newly-formed Big Brother, so-named
because, according to Noel, "It's me! Me being the big brother. When I said it,
everybody started laughing so I decided it was a great name."

Noel also confirmed that, apart from Oasis product, the label would seek to release
other artists' material, just like his heroes, The Beatles, did with their own Apple
label in the 1960s.
"It's like empire-building," Noel told NME, while also confirming that he has
already written five songs for the NEXT album. "By the end of 2001," he said,
"we should have another album out." ....taken from NME.....

"I read the news today, oh boy..." - 12/19/99

The Oasis cd isn´t supposed to be released until the end of February.
But already is there a bootleg copy of Oasis fourth album, Standing on the Shoulder
of Giants, to buy in the States.
The band is told to have lost over 15 million kronor already. (120 $; 150£)
Only a few high people in the Sony stab have had access to a pre- copy of the CD.
"What has happend is really embaressing for us" says a source on Sony America.
No Kiddin´?!?!?! .....taken from the swedish newspaper Aftonbladet.....

Fuckin´ In The Bushes!! - 12/6/99

A finnish radio station have started to play Fuckin...!!
A finnish guy has converted it to mp3 and here it is.
Though people that are sensitive for rough language should not listen... :)
Enjoy!

Fuckin´ In The Bushes - Mp3, 2.3 mb

Noel, Bell and Gem on radio tomrow - 12/6/99
Noel Gallagher will play an acoustic show tomorrow night when he will be possibly
be playing new single 'Go Let It Out' live for the first time. Gem and Andy Bell
will play with him.
As predicted by nme.com, they play Toronto for radio station Edge 102 in Canada
tomorrow, December 7, at a storefront studio in the city's downtown Yonge Street.
Admission is free and it kicks off at 6pm Eastern Time (11pm GMT).
The station also says that the event will be webcast on their site, though over the
weekend Chicago's Q101 was supposed to broadcast their Saturday night show on
the internet and showed all the bands except Oasis - who were replaced by a
documentary about Bush!
There will also be an interview with Noel.
Oasis played their third US show last night in Detroit for radio station 89X.
It was the same five songs as they played in Philadelphia and Detroit, again well
received and on top form.
The band will do promotional work - interviews with press, TV and radio in Canada -
before arriving in Los Angeles on Friday where they will shoot a video, do a photo
session and play at the KROQ Almost Acoustic show. They will then break for
Christmas.
Meanwhile, Liam Gallagher was reported by The Sunday Mirror to have claimed
that he was launching a solo career. A reporter from the tabloid caught up with the
Oasis singer during his 'lost weekend' last week when he supposedly went missing
before the US tour. They also quoted him as saying that he felt that Creation boss
Alan McGee had betrayed them and that he was personally overdrawn at the bank
and had no money. He claimed that McGee no longer thought the band were cool
because they were always being written about by the tabloids.
Nme.com caught up with the band in Detroit and asked Gem why they hadn't played
any new songs from the album.
"You're asking the wrong guy," he replied. .....taken from NME.....
More concerts!- 12/6/99
Oasis have added two more dates to the schedule of summer stadium shows after a
massive response when tickets went on sale on Saturday morning.
They've added a second show at Bolton Reebok Stadium on Sunday July 17 and
another London Wembley Stadium show on Friday, July 21.
Tickets for all dates are on sale now.
Meanwhile, Noel Gallagher has told Heat magazine that the opening track of
forthcoming album 'Standing On The Shoulder Of Giants' - entitled 'Fuckin' In
The Bushes' - originally featured a loop from a Jimi Hendrix song recorded for the
BBC which had to be taken off at the last minute because of clearance problems.
"The title makes sense when you actually hear it," Noel said. "It has a lot of vocal
samples from a film. It's quite a hard-sounding song, but it's also quite funny as
well."
The first song Oasis have done by Liam Gallagher - 'Little James' - written while
he was feeling homesick on the road with the band - is said to sound like
'Wonderwall'.
"Well, it worked the first time didn't it?" said Liam. .....taken from NME.....
"We´re better than ever"- 12/6/99
Noel Gallagher believes his band are playing - and looking - better than ever.
The Oasis songwriter was speaking exclusively to me after new recruits Gem
Archer and Andy Bell made their debut tour gig in Philadelphia - which marks the
rebirth of the band. He said:
"It's odd because we're playing all our old stuff, but it's all coming together.
The bass playing is a lot better and Gem plays more lead guitar than I do, so that's
a lot better too. It feels like we've been together for a while, but it's only been
three weeks. I think we're brilliant now. But to be honest, I can't even remember
what we sounded like before. The crowd reaction from the gig would indicate that
we are better than ever. By the time we get to Wembley we'll be incredible."
The quality of musicians is not the only thing that has changed - the whole look of
Oasis is different. The replacements for Guigsy and Bonehead both dress in the
same style as Noel, brother Liam and drummer Alan White.
They all have feather-cut hair and wear cool, casual clothes.
Noel said:
"Everyone's been saying we look good, and it's great to have lads with decent
haircuts on board. The music comes first but with the same haircuts we look great,
like more of a band."
He joked:
"The first time I looked around at the show and saw that Bonehead and Guigsy
weren't there, it was a bit weird. But we're trying to get Gem a bald wig and get
Andy to put on a few pounds to help me out."
Noel added:
"I thought the show went really well. There was a lot of pressure on us because it
was our first one with the new line-up."
He also revealed that while the rest of the band went boozing after the gig, he and
Liam were tamely tucked up in bed. He said:
"I had two pints of Guinness and felt a bit wobbly and went to bed.
"I haven't got a problem with drinking - my problem is I have two pints and start
talking s**t. I'd love to be able to stay up all night drinking."
The Gallagher brothers seem to be settling into a less wild lifestyle now they have
family responsibilities. Liam's wife Patsy Kensit gave birth to his son Lennon two
months ago and Noel's wife Meg Mathews is expecting their first child in the New
Year. He added:
"I want a girl. We've got a few ideas for names but the wife's sworn me to secrecy.
If it's a lad I wanted to call him Swifty, but the missus is having none of it."
Oasis' fourth album - Standing On The Shoulder Of Giants - is due out early in the
New Year and a single from it is expected to get radio airtime this week.
Noel said: "It's a good pointer to what the album's like. It's more detailed,
electronic and funky than our live stuff - it's less rock and roll."
Still the greatest - Oasis live in Philadelphia
Supergroup Oasis are back and their storming set in Philadelphia shows they are
back to their brilliant best. It was the band's first live performance with their
new line-up and they wowed the 15,000-strong crowd at the Y-100 festival with
five great hits. New boys Gem and Andy slotted in perfectly and Liam's voice was
better than ever as he opened the show with the classic Cigarettes And Alcohol
followed by Supersonic. But the biggest hit was Wonderwall - and their ecstatic
American fans sang along. Liam was the ultimate showman - flirting with the crowd
and chatting between songs. But he left the stage after Champagne Supernova,
giving Noel and the new lads a chance to shine. And they did, showing the full
potential of the new line-up with the final track - a blinding performance of
The Beatles' Helter Skelter.
Oasis outshone the other acts, including Foo Fighters, Moby, and Beck.
.....taken from The Sun.....
New pics from the Chicago show!!- 12/6/99
Pic1 (bmp) Pic2 (bmp) Pic3 (bmp) Pic4 (bmp)
Pic1 (jpg) Pic2 (jpg) Pic3 (jpg) Pic4 (jpg)
Despite the awful weather conditions in Chicago, the All State Arena was buzzing
in anticipation of Q101 T6 (Twisted Christmas 6) Millennium show on Saturday
evening. A stellar line-up consisting of Moby, Run DMC, Filter, Blink 182, Fiona
Apple, Oasis, the Foo Fighters and Bush providing the inspiration.
But Oasis were the focal point of most expectations, and delivered a set that
despite defusing suggestions that the loss of Bonehead and Guigsy could quicken
their demise, still kept cards very close to their chests.
Their 25-minute set, consisting of 'Cigarettes and Alcohol', 'Supersonic',
Wonderwall', 'Champagne Supernova' and 'Helter Skelter', showcased no new songs
from imminent third album 'Standing On The Shoulder Of Giants'.
Before they arrived on-stage, dotmusic spoke to Noel and Liam to find out how new
members Gem and Andy Bell had fitted into the band. The Gallagher brothers, who
were quite sociable all evening, catching both Fiona Apple and the Foo Fighters,
were in buoyant moods, spending time signing autographs and chatting with the
crowd.
Dotmusic reporter Althea Legaspi caught-up with Liam and Noel, asking if she could
squeeze in a question before they went on-stage. When asked how he felt about
playing the three upcoming radio shows in the States, Liam commented:
"Yeah, it's great," adding how excited he was to be in America. In typical Liam
style, he then joked when asked how he felt about the new line-up: "You know that's
two questions now isn't it?" But he explained how well the band had gelled, with Gem
and Andy, to which Noel agreed, describing the new guitarist and bass player as
'fantastic'. He said they had played together for the first time the previous night in
Philadelphia, a show Noel said had been good, although he predicting that tonight's
gig would be even better. The confidence and eagerness of both Liam and Noel made
it obvious how keen they are to get back to business and respond to the critics and
fans who found 'Be Here Now' a little too contrived a pill too swallow.
Rumours circulating in the UK that Liam had been MIA for a week had reached
America and many – knowing the Oasis US track record - had speculated the band
would be playing without him.
The crowd were already getting riled up when the compere announced: "They're
here....they're here!...All of them are here!", Liam sauntering on stage in dark,
Lennon-esque shades and a cigarette resting comfortably in his mouth.
The fervent reception kicked-up a notch as Oasis launched their 25 minute set
with 'Cigarettes and Alcohol'. The side of the stage was packed with onlookers,
press and personalities, including Filter and Foo Fighter members and even Billy
Corgan, saddled-up to get one of the better views in the venue. At one point the
side stage was so mobbed with backstage pass people, security began kicking many
of them out.
'Supersonic' was the next song to be heard. The band were suprisingly cohesive,
flowing effortlessly through the song that launched their careers. Liam drawled
majestically, while Noel hammed-up to the cameras, making it obvious that the pair
were glad to be back in the live spotlight as opposed to the tabloid one.
'Wonderwall' and 'Champagne Supernova' followed, with the former providing
ample opportunity for Liam to display the kind of charisma and emotional resonance
that have sealed his position as one of the most iconic frontmen of the nineties.
For a band that is fairly new in respect to the line-up, Oasis meshed well
throughout: with Gem and Andy playing together stage left, and Noel to the right.
Liam worked the stage and crowd particularly well during 'Wonderwall', even Billy
Corgan seemed to have become slightly seduced by the track. Liam also provided
probably the comic moment of the evening, announcing the next track as ''Rudolph
The Red- Nosed Reindeer', a deliberate jibe at Blink 182 whose set included a
bizarre, slightly sickening version of 'Silent Night'.
Liam was again magnetic during 'Champagne Supernova', probably the best jam of
the night, as the band rocked-out supremely. Gem was particularly animated and
obviously enjoying himself. Hardly surprising when you consider he used to be a
member of indie nobodies Heavy Stereo. Liam completed the song with a kiss to his
microphone and promptly left the stage, leaving vocal duties to Noel for the final
track.
Throughout a grand, explosive 'Helter Skelter'. Noel, Gem and Andy played well
off each other, and the crowd, made up mostly of kids who probably couldn't name
who wrote the song originally, responded with great enthusiasm.
Audience reactions to the new line-up were favorable, most citing little difference
in their live sound to previous shows. Amazingly, one might think the band in its
current evolution had been together since the beginning - the only evidence to the
contrary being they all appear to like each other and get along well. How well the
new members – or the rest of us - will react to 'Standing On The Shoulder Of
Giants' is another matter entirely. But for the moment, this was certainly a step
forward. .....taken from Dotmusic.....
Lennon and Liam in the park, how sweet, eh? :) - 11/18/99
Proud Liam Gallagher strolls with his baby son - and shows that when it comes to
fatherhood, he's mad for it.
These touching pictures prove the 27-year-old rocker's wild ways have been tamed
by his love for two-month-old Lennon.
The Oasis frontman has already quit drugs and booze. And it's clear he is revelling
in his new clean-living role.
An onlooker at the park in Primrose Hill, near Liam's North London home, said:
"He took a slow walk for around 15 minutes, frequently kissing his baby and
chatting to him.
"It was obviously bliss for them both. Liam had only one care in the world, and
that was for his son."
The onlooker added: "Liam was fully aware he was being photographed. He warned
photographers not to come too close, but was happy for pictures to be taken with
long lenses."
Liam - whose hits include Roll With It and Wonderwall - was pictured yesterday,
less than a week after he and brother Noel were branded miserable in a poll for
the Co-op's Internet bank smile.co.uk.
But a pal said: "I've never seen him happier." He added Liam helps actress wife
Patsy Kensit, 31, "with almost every aspect - even getting up in the night to change
Lennon's nappies". .....taken from The Sun.....
Here are three pics.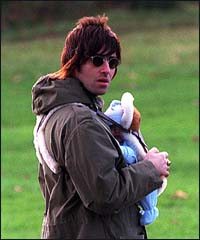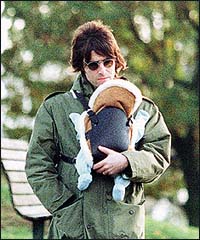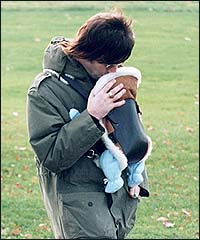 World tour dates!!! - 11/18/99
The tour dates I´ve put up yesterday were comepletely fake...
I am truely sorry about this...I thought I could trust an Oasis fan...but nope.
World tour starts in Japan + new bassplayer! - 11/12/99
Oasis have announced that Andy Bell, formerly of UK bands Ride and
Hurricane # 1, will be joining the band on bass guitar. He has been rehearsing
with Oasis earlier this week and will accompany the band on their U.S. radio
dates that start in Philadelphia on December 3rd , as well as their world tour
which starts in late February in Japan and runs through most of next year.
Oasis have known Andy since their early days of touring, when Andy's first band
Ride were special guests at Oasis' Xmas 94 show at the Brighton Centre.
Andy said: "I'm very excited. When I got asked, it was not a difficult decision to
make. Oasis have always been an inspiration. I'm looking forward to it."
.....taken from Creation Records offical home page.....
Bass player officially confirmed!!! - 11/12/99
Oasis have announced their full line-up and their new bass player is Andy Bell,
ex-Ride guitarist, who until recently looked set to join Gay Dad.
The surprise announcement, just confirmed by Creation Records, comes a week
after the first pictures of Oasis with new guitarist Gem, ex of Creation act Heavy
Stereo was released.
Bell, also a Creation labelmate with Ride and then Hurricane # 1, was a guitarist but
now takes over Guigsy's bass role. It is not yet known if Bell, an accomplished
songwriter himself, will contribute anything other than his hired-hand musician's
skills to the band.
When asked how Gay Dad were likely to take it, a band spokesman said:
"I'm sure they'll take it like men." .....taken from NME.....
Weirder and weirder... - 11/11/99
Soul star PP ARNOLD and 70s pop star Linda Lewis sing on three tracks on the
forthcoming Oasis album 'Standing On The Shoulder Of Giants' according to a
report in The Sun today.
Classical flautist Charlotte Glasson also plays on one track.
PP Arnold started her career as one of Ike & Tina Turner's backing singers The
Ikettes in the early 60s before settling in London. She enjoyed several solo hits in
the 60s and sang on the Small Faces 'Tin Soldier'. More recently she has worked
with Primal Scream and Ocean Colour Scene.
Linda Lewis was a top 70s session singer who had a few hits in the early 70s with
'Rock A Doodle Doo' and a cover of 'It's In His Kiss'.
The report also says that former Oasis producer Mark Coyle plays sitar on one
track. .....taken from NME.....
OFFICIAL TRACKLISTING!!! - 10/29/99
Release date: 28 February 2000
Standing On The Shoulder Of Giants
1. Fuckin' In The Bushes
2. Go Let It Out!
3. Who Feels Love?
4. Put Your Money Where Yer Mouth Is
5. Little James
6. Gas Panic!
7. Where Did It All Go Wrong?
8. Sunday Morning Call
9. I Can See A Liar
10. Roll It Over
Imagine the first track as a single...it surely will get censored :)
.....taken from www.oasisinet.com.....
---